ISLAND SUMMER 60s & & 70s
Classic Radio Hits Available on Compact Disc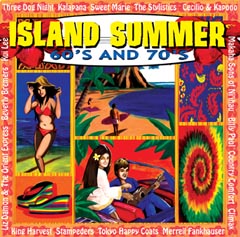 From the Hawaii Radio & Television Guide Website
Published by Melvin Ah Ching
Hawaii Radio & Television Guide is proud to announce "Island Summer 60s & 70s", a new compilation CD that brings back top 40 and local Hawaii hits that ruled the island airwaves. The compilation CD produced by Neos Productions was released August 31 and is available at Hawaii music retailers throughout the state. The disc contains 16 classic radio tracks including several songs that up to now, have not been available on a digital format. These songs include the 1970's karaoke favorite, "Forevermore" by the Tokyo Happy Coats, (which is sung mainly in Japanese), the debut single and top 10 hit by The Sweet Marie, "Remember Mary" and Maui's Merrill Frankhauser's laid back classic, "On Our Way to Hana".
Also appearing for the first time on a local compilation CD are Three Dog Night's cover of the Jesse Colin-Young track "Sunlight", Liz Damon & the Orient Express' only Billboard Top 40 hit, "1900 Yesterday," and The Stylistics' classic B-side which became a hit in its own right, "Ebony Eyes". Other local favorites include Ku'i Lee's original recording of "I'll Remember You," the Makaha Sons of Niihau's "Hawaii 78", Cecilio & Kapono's "Sunflower", Country Comfort's "Pretty Girl" and Kalapana's "You Make It Hard." Well known top 40 hits are also on the disc including Sonny Gerraci & Climax's "Precious & Few" which hit #1 in Hawaii back in 1971, 6 months before it hit the top 10 nationally; The Stampeders' "Sweet City Woman," King Harvest's "Dancing in the Moonlight," Billy Paul's "Me and Mrs. Jones," and Beverly Bremers' "Don't Say You Don't Remember."
In a recent poll run at the Hawaii Radio & Television Guide, we asked readers which songs would you like to own on a CD. Some of the songs listed in that poll are now included on this new release. Most of the songs on Island Summer 60s and 70s were in regular rotation on AM radio stations of the day including KKUA, KPOI, KORL, KMVI and KCCN.
Producer Pati St. John consulted with the publisher of the Hawaii Radio & Television Guide on track inclusion, chart history and background information on some of the songs and artists. Narrowing down the amount of songs from available tracks to include on this release was hard to do.
Neos Productions is well known in the music community for releasing outstanding island music compilation CDs and individual albums by artists such as Justin, Bitty McLean, Kekoa, Norm, Reality and the Ka'ala Boys.
---
CLICK HERE TO ORDER YOUR COPY OF ISLAND SUMMER 60s & 70s ONLINE.
---

QUOTES: What others are saying about "Island Summer 60s & 70s"
"If you grew up in the era of transistor radios and vinyl 45-rpm singles and 33 1/3-rpm long-playing albums, this one connects you to the past.... the disc packages acts that attracted audiences in big concerts, small gigs and dance hall gatherings here.", Wayne Harada, Honolulu Advertiser, Sept. 12, 2004.

"... there's a song here of sufficient rarity that island residents who remember it may want to buy this album just to get it. "Nevermore [sic] (Kinito Itsumademo)," by the Tokyo Happy Coats, was a hit here, but the Japanese group never even reached Billboard's national "Bubbling Under" chart. So anyone who has been looking for the Tokyo Happy Coats' single on eBay can now end their search with the release of this album." John Berger, "Island Mele" column, Honolulu Star-Bulletin, Sept. 24, 2004.
---

TRACK LIST
| | |
| --- | --- |
| 1. Sweet City Woman | Stampeders |
| 2. You Make It Hard | Kalapana |
| 3. Precious and Few | Climax |
| 4. Sunlight | Three Dog Night |
| 5. Dancing In The Moonlight | King Harvest |
| 6. Ebony Eyes | Stylistics |
| 7. Me and Mrs. Jones | Billy Paul |
| 8. Sunflower | Cecilio & Kapono |
| 9. 1900 Yesterday | Liz Damon & the Orient Express |
| 10. I'll Remember You | Ku'i Lee |
| 11. Don't Say You Don't Remember | Beverly Bremers |
| 12. Forevermore | Tokyo Happy Coats |
| 13. Pretty Girl | Country Comfort |
| 14. Hawaii 78 | Makaha Sons of Niihau |
| 15. On Our Way To Hana | Merrell Fankhauser |
| 16. Remember Mary | Sweet Marie |
RELATED LINKS
NEOS PRODUCTIONS | DISCUSSION TOPIC: ISLAND SUMMER
HAWAII TOP 40 HITS 1950s - 80s | DISCUSSION TOPIC #2