Mel's Top 30 Albums of All Time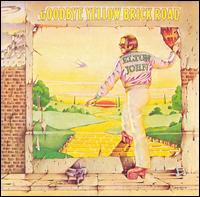 This is a list of albums that I have come to enjoy over the years and play from start to finish whenever I load them into my CD or tape player. Over the years I have probably bought 1, 2, 3 or more copies of these albums in some format or another. I have also made tapes of these albums through the years and have them stored on my iTunes.
The list does not include "Greatest Hits", compilations or boxed sets.
Compiling a list such as this is difficult in the fact that there are so many other great albums that I had to leave off but still enjoy. Because of that there is a good possibility that this list will be updated with new albums added and some currently listed removed.
Pictured: Elton John's "Goodbye Yellow Brick Road" from 1973.
Linked albums take you to an Amazon.com order page.
See also Mel's Record & Movie Reviews at Amazon.com.
Mel's Top 25 Albums available at Amazon.com (a slightly different list).


MUSIC HOME PAGE | MEL'S INTERNET UNIVERSE

Copyright 2000 - 2008 Melvin Ah Ching Productions. All Rights Reserved.
Last update to this page: September 1, 2008. | email: macpro3000@yahoo.com