45 RPM HEAVEN
Sweet Marie "Stella's Candy Store" (1972)
Sweet Marie was a rock group that became popular in Hawaii in 1970s with their initial release entitled "Remember Mary." I know almost nothing about this group except that I really loved their 3 single hits. Sweet Marie was a heavy rockin, guitar laden combo that featured a lead singer who sounded somewhat like Jimi Hendrix. This is most apparent in their debut hit "Remember Mary," as well as on this featured 45, "Stella's Candy Store."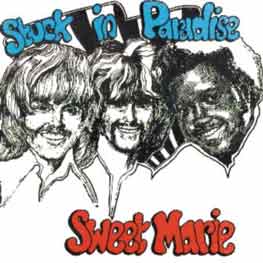 All of the Sweet Marie's records were issued on the Yardbird label out of Woodland Hills, California. I know nothing about this company and doubt that they exist today.
"Stella's Candy Store" was released in 1972 and received heavy airplay in Hawaii. What attracted me to this single was the fact that it was issued on colored vinyl.... clear red. It looked cool and the song was great! "Stella" made it to the top 10 of many local radio station charts, but as far as I know, was a hit only in Hawaii. The song was #1 on KPUA radio in Hilo Hawaii. I remember seeing Sweet Marie once on a local TV show performing this song. They rocked!
This single was issued on clear red vinyl and I am the happy owner of 2 copies of this 45. I think it is a most excellent record. The B-side to "Stella" is a track called "Another Feeling" and is somewhat laid back in contrast to the loud "Stella."
CD Availability: The album from which "Stella's Candy Store" and "Stuck in Paradise" was issued, became available on compact disc about 2 years ago. It is on an independent label Gear Fab Records, catalog number GF-172. "Stuck in Paradise" is the title of the album. This was Sweet Marie's 2nd album.
The Sweet Marie
"Remember Mary" b/w "Don't You Understand?"
Yarbird YDB-70-1314, Released 1970
"Stuck in Paradise" b/w "Hortense The Hippie"
Yardbird No. 8015, Released 1972
"Stella's Candy Store" b/w "Another Feeling"
Yardbird YDB-72-1321, Released 1972
Graphic Images: Top is the 45 rpm record of "Stella's Candy Store" in red vynil. Below that is Sweet Marie's 2nd album, "Stuck in Paradise" on which "Stella" is featured.

45 rpm Heaven
THE MUSIC PAGE | MEL'S INTERNET UNIVERSE
Copyright 1996 - 2004 Melvin Ah Ching Productions. All Rights Reserved.
Last update to this page: April 10, 2004. | email: macpro3000@yahoo.com | Version 5.2