45 RPM HEAVEN
Jimmy Osmond
"Goodbye Mr. Tears" | "My Little Darling"
Most people remember Jimmy Osmond as the little kid brother to Donny and Marie Osmond of the world famous Osmond singing family. What very few people probably know is that Jimmy Osmond, who had a couple of top 40 hits like "Long Haired Lover From Liverpool" and "Tweedle Dee," recorded a couple of 45s for the Japanese market.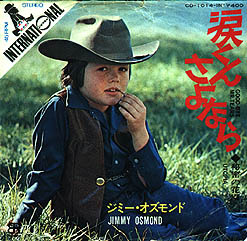 Two of Jimmy's 45s became hits on the island of Hawaii, particularly in the city of Hilo on KPUA radio. The first of Jimmy's singles was a ditty called "My Little Darling." It was sung in Japanese and was a typical, sugar coated, "J-Pop" record. Of course this fit perfectly in with little Jimmy's image since he was just a wee kid back then.. Remember we're talking 1972 here.
Jimmy's follow up single to "My Little Darling" was a beautfully crafted tune called "Goodbye Mr. Tears." I would suspect it is some kind of love song, and I have no idea who Mr. Tears was. Of course this song like the previous record was also sung in Japanese. "Goodbye Mr. Tears" became a #1 hit in the town of Hilo for a couple of weeks in the late spring of 1972.
CD AVAILABILITY: While Jimmy's music is available on CD, these 2 Japanese tracks are not.
Jimmy Osmond
"Goodbye Mr. Tears" b/w "Utopia"
Written by K. Hamaguchi, K. Hamaguchi, K. Merioka
Denon International | Stereo | CD-1014-IN (SN 367)
"My Little Darling" b/w "Peg O My Heart"
Written by M. Nakayama, K. Inoue
Denon International | Stereo | CD-62 (SN 153)

45 rpm Heaven
THE MUSIC PAGE | MEL'S INTERNET UNIVERSE
Copyright 1996 - 2004 Melvin Ah Ching Productions. All Rights Reserved.
Last update to this page: February 8, 2004. | email: macpro3000@yahoo.com | Version 5.2