45 RPM HEAVEN
Madonna's "True Blue" (1986)
Madonna made her best music in the 1980s. From her first single, "Holiday" to 1989's "Like A Prayer," almost all of Madonna's songs were greatly crafted dance-pop.
One of my favorite tunes by the former "Material Girl" is "True Blue," off her 1986 album of the same name. What is particularly interesting about this 45 is that it was issued in see-thru blue vinyl. It not only sounds good, but neat to look at too...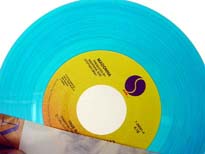 The song itself reminds me somewhat of a throwback to music of earlier times. Not that it sounds old or anything, but perhaps more the imagery that went along with the song and its 2 videos (which are rarely played these days). I remember one of the videos has Madonna singining in this blue backdropped filled room with some blue convertible car of something. The second video I believe was made by someone for an MTV contest, and as I recall this video was sepia-toned brown all the way through showcasing mostly people dancing at some prom.
"True Blue" spent 12 weeks on the Billboard charts peaking at the #3 position in the fall of 1986.
CD AVAILABILITY: All of Madonna's music is available on CD.
Madonna
"True Blue" b/w "Ain't No Big Deal"
Written & Produced by Madonna and Stephen Bray
Sire Records | 7-28591 | Limited Edition Blue Vinyl Pressing
WATCH THE VIDEO: From YouTube.com.

45 rpm Heaven
THE MUSIC PAGE | MEL'S INTERNET UNIVERSE
Copyright 1996 - 2007 Melvin Ah Ching Productions. Last update to this page: May 27, 2007